Here at Lower Moss Wood we pride ourselves on delivering fun educational activities for children to enhance their knowledge and understanding of wildlife and conservation.  Set in our 18acre woodland we provide a safe and secure environment for children to learn about wildlife habitats and about the flora and fauna which surrounds them.  Ray Jackson MBE shares his advanced knowledge in his unique fun and informative way, providing children with memories to last a lifetime.
Lower Moss Wood youth activity days
Fun, laughter, adventure and learning all rolled into one!
Wildlife themed crafts are a must for each day and all equipment is provided.
The activity days are for children aged 5 to 12 years.
Each day starts at 10am and finishes at 2:30pm
Please provide your child/ren with a packed lunch and a drink each day.
All children must be dressed appropriately and we recommend long trousers and trainers and weather dependent, wellies and hats and suncream.
meet the youth activity team
The font of all knowledge!
Ray, well most people know Ray!  He's the man your children will remember forever!
Ray has educated over 60 thousand school children over the past 30+ years!
An all round smilie person!
Vicky takes care of the administration and is the friendly face at the end of the telephone.
With two girls of her own, two dogs, two cat a snake and two rescue Magpies, Vicky has lots of patience and is full of kindness to all.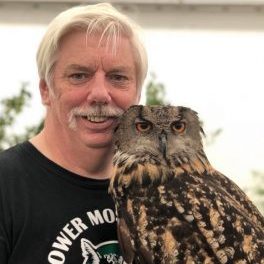 Ian Daniells
Trustee and volunteer!
On the day that Ian attends he brings along his feathered friends allowing the children to get up close to some magnificent birds of prey.
This is a fantastic experience for the children to get to see these amazing birds and learn about their habitats and hunting skills.
To book your child/ren onto our youth activity days please visit the "SHOP" tab at the top of the page.